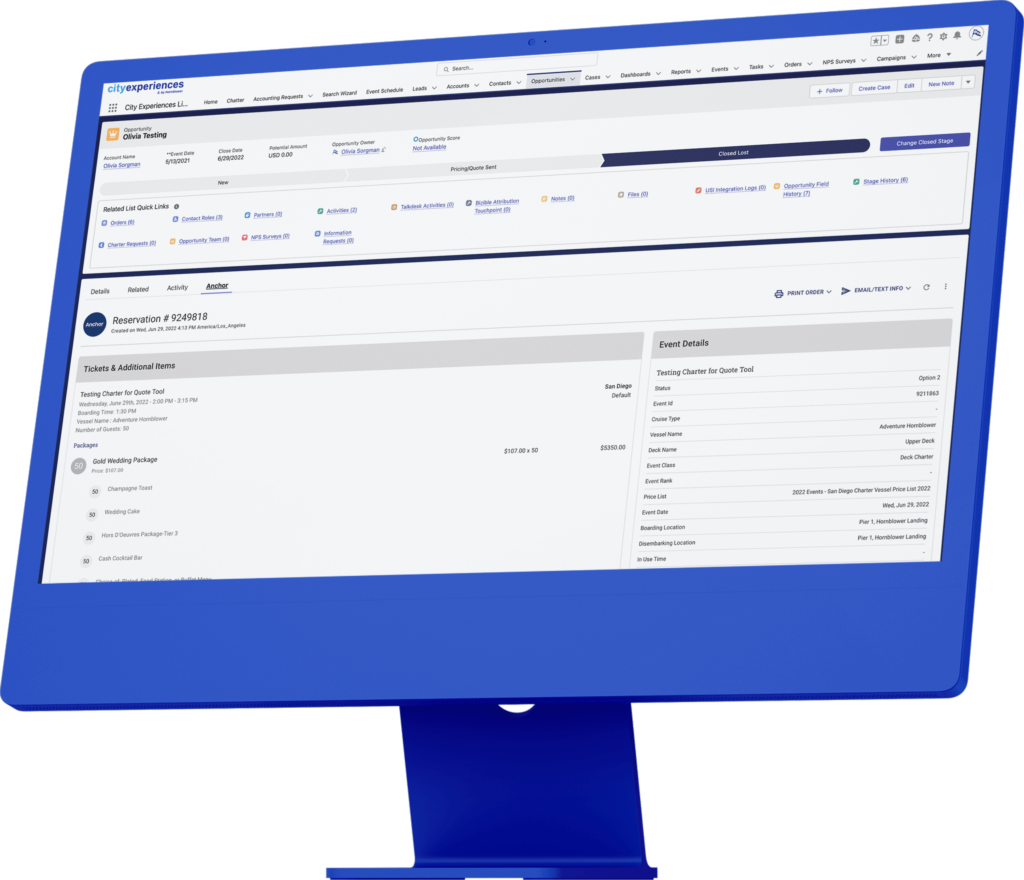 Updated 3/14/23
Why Should Businesses Leverage Point of Sales Software?
A point-of-sale (POS) system comprises both POS software and POS hardware to manage the purchase, return, and exchange transactions. Typically, it has the functionality to register, cash wrap and accomplish counter checkout. We all know that point of sale does not always happen at a counter; it can be on a:
Curbside with click-and-collect orders
Salesfloor with a mobile POS
E-commerce site checkout processes eCommerce sites.
Moreover, POS systems not only take care of checkout aspects, but the modern point of sales also helps in:
Inventory management
Customer relationship management (CRM)
And analytics.
You must understand how the POS system works and how you can choose the best features for your business.
POS System Functionality
In simple words, POS systems use software for processing transactions. As a customer selects the right products, it lets you choose the right POS system for scanning all those items through a QR code or a barcode. The software will give you the total and also allow for processing the payment via a chosen payment method. As the payment is accomplished, it prints the receipt. This is how a POS handles sales orders. Secondly, the POS software also records the right customer information and any modifications in the inventory levels while tracking sales activity.
The latest Point Of Sales software has various features where that work to help you find out about the dropping inventory levels, track customer data, and also give you insights that help you improve marketing efforts.
Also, modern POS systems are not old-styled electronic cash registers, but they are very handy and cloud-based applications. You can install and operate them on mobile devices such as tablets and smartphones. You get internet-accessible apps from the same. The POS system proves helpful and can work at places where your customers are. These systems make it super easy to accept payments on stable internet connections. And also helps you give services to the place where your customers are, making it easy to accept payments just if you have a stable internet connection. It also helps you adjust offline payments where you don't even need an internet connection.
What you require is POS systems having user-friendly and customizable interfaces having the right training tools that both you and your staff can handle for learning about the ins and outs of POS transactions.
Important Features of POS Systems
As you begin to identify the best POS system for your business, think of the features you need today and in the coming time. The right POS should have the features that your industry is based on and also the number of transactions you are going to perform.
The particular features for your POS will also be based on the platform you choose. Maybe you can sign up for certain types of POS that have specialized features like menu management, food-based businesses, and much more.
Sales and Checkout
The best POS system helps in the creation of a seamless checkout experience for you and your customers. With more sales, you also get options such as:
Adding loyalty points
Coupons and other discounts.
Processing returns and refunds
Issuing store credit
And creating gift cards with one click.
The checkout process will also gather customer information leading to data that serves their purpose well. The POS software helps in collecting customers' contact information. It also creates customer profiles to record store purchase history. Collects sign-ups for best email marketing and promotions and enrolls customers in loyalty programs.
Credit card terminals also help in getting charge reports for recycling tickets for sales. Anchor iO POS systems have this feature to make things simpler and easier for you. The most important thing you need to look for in the POS card terminal is getting support for flexible patent options like swiping cards, taps, EMV chips, and contactless methods such as GPay or Apple Pay.
Inventory Management
Inventory management also has the right features and gives businesses a POS system. This system has the right features for helping that track the stock and ensures that you have the right features for helping you to track the stock and ensure having the appropriate amount of inventory with you at all times.
When you look at inventory management systems, it's important to consider the way the software helps in the organization of the products. Also, POS systems also help in creating SKU numbers while storing the key product data such as supplier information, the wholesale cost for regular, and discount prices on various items. It also includes using the right variables like size and color and also the existing stock quantities.
Customer Relationship Management (CRM)
The right POS helps you in tracking customer contact information for purchases, totals, payment methods, and returns. This is highly helpful for your overall sales— plus, it helps in targeted marketing campaigns. As you understand customer preferences for your products, the most spending customers, and also the ones who visit you the maximum, you can customize your platform to serve customers well.
With your CRM data, you can boost customer loyalty by designing a customer loyalty program. Anchor POS System will also have in-house loyalty programs integrated with their POS plans. However, you require using the third-party loyalty program software.
Marketing Tools and Third-party Integrations
Certain POS software comes along with built-in marketing tools such as social media integrations and SMS/email outreach. Make sure that you also consider if these tools are useful for you and your business and the right marketing strategies that can help your business to select the right POS. Moreover, email marketing campaigns are highly popular marketing tools for most POS systems because they help in building and managing email contact lists. This helps you send marketing emails using promotions, and you can also order your history for targeting what requires spending marketing emails applying promotions allowing you to use the customers' order histories for targeting the most responsive ones.
Team Management
Point of sales software systems has various employee management tools for:
Time tracking
Scheduling
Commissions
Internal reward programs
Permissions
and more.
Our POS systems also let you integrate and access payroll management with time tracking for payroll tools in an automated system. When does third-party integration help you with this?
Pricing for POS software
Choose a POS system that helps you to understand your small business needs for thriving. You also need to understand certain questions for deciding your budget. Consider if this software helps to meet your needs and if it is easy to use. Think of the ways it saves you time. You can also purchase customized software that suits your business needs. How much will the software charge for credit card processing for our clients for their business needs?
You do not pay for set up or monthly with Anchor. We have two pricing structures of 4 % and 7 % of web sales. Reach out to the Anchor Team to learn more about POS systems and sales.
Conclusion
Having Point of Sales software is important for your business irrespective of the niche. But, all point of sales software are not equal.  Anchor provides you third party integrations that matter for enhancing your business value and reducing the staff's workload. It lets you focus on core business while managing the payment processing, sales and credit, customer relationship management, inventory management and much more. Feel free to talk to us to learn more.
More About POS
Point of sale (POS) software is a valuable tool for businesses that can help improve their operations and enhance the customer experience. In addition to the features already discussed in the article, there are several other benefits of using POS software.
One of these benefits is inventory management. POS software can help businesses track sales and inventory levels in real-time, reducing waste and improving profitability. POS software can also collect valuable customer data, such as purchase history and preferences, which can be used to personalize marketing efforts and gain insights into customer behavior.
Another benefit of POS software is employee management. POS software can help businesses optimize their workforce and improve productivity with features such as time tracking, scheduling, and performance analytics. POS software can also integrate with other systems such as accounting software and inventory management systems, reducing manual data entry and streamlining operations.