A
Train Ticket Booking Software
Built by operators for train & railway operators
Anchor is more than a ticketing platform for your train business. It is a cloud-based control panel that manages the integration of 3rd party partners, ingestion of all data, and production of centralized solutions.
2018
Year We Were Founded
10
Countries using our products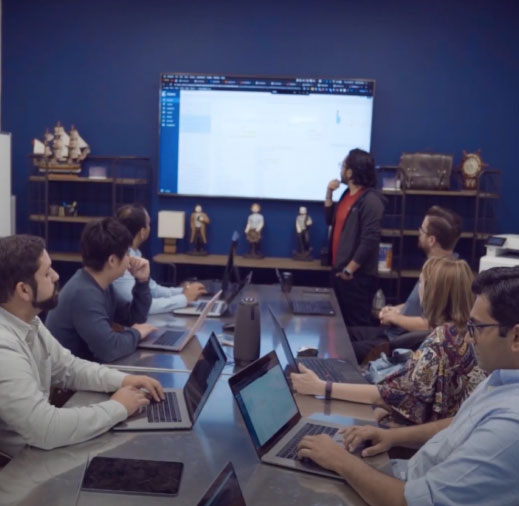 Our Approach
Results oriented
Anchor provides a seamless, frictionless, and holistic digital journey that enhances the guest experience
The Human Element
What's our secret? Great people.
Encore Studios by Hornblower is the amazing team dedicated to creating quality software, integrating third-party partners, ingestion all data, and producing centralized solutions for the transportation and hospitality industry
Updated 3/14/23
Train Tours ticketing management can get more accessible and insightful with Anchor Operating System integration to your website. We analyze your unique business requirements and customize the operating system to form a mobile app that matches your business needs. In addition, your Anchor dashboard lets you access all the accounts of operations of your business in an overview.
Anchor Trains booking software offers you profit points with several top-notch business-friendly features such as dynamic pricing customized portal to select an itinerary and routes. Moreover, the data-driven software helps get the information your users want. Anchor lets customers book directly on your website from anywhere and anytime with a few clicks.
What Makes Anchor Operating System Top Train Tours Management Software?
Anchor Train Tours event ticketing software is a cloud-based API integration for third-party platforms with unlimited data storage and backup features. It has a customized and secure, easy checkout, allowing customers to book with contactless translation via Credit Cards, Google Pay, and ApplePay. It also provides data-driven insight to enhance your business.
Customization
Anchor Operating System is an innovative Train Tours reservation system software that lets you customize your offerings to customers. Its scheduling and pricing features give you an edge over the competition. Choose your:
Date ranges
Dynamic pricing for reservations
Unique ticket types and inventory management
Route options
And sales source availability information.
Advanced Technology Solutions for Train Tours Ticketing Management
Get More Bookings
Team Anchor does not hesitate to take an extra step to find strategies to make the most of the business outreach to outcomes. We have a vested interest in this. Not only do we devise scientifically proven techniques to bring you more traffic, but we also strive to make your business better. We provide you with unique customized apps to draw customers from different channels and give the right insights for business growth. Mobile-ready billing systems with seamless transactions encourage returning customers with features like storing their billing information.
Personalized Dashboard
Anchor Train Tours software app gives you a personalized dashboard, offering a quick and sorted overview of different business operations-related information. You can check the number of bookings per day, prices with most bookings, customers that made the maximum investment, the location and itineraries most popular with customers, most popular Ferries, and more. Any glitches faced in operations get highlighted to bring your attention to fix them. You get all the information handy on your smart device or iPad.
Extra Features for More Business
Team Anchor works to customize your app per the business model and your collaboration with other agencies. You can let us know your plans for collaboration programs, and we can set up features for drawing relevant customers. In addition, we reach out to your customers globally and bring them to your website for direct bookings.
We check if your website is user-friendly and design an immersive display of Train Tours, making everything clear to customers of the beautiful time they can look forward to. In addition, team Anchor provides event setup, intelligent navigation, seamless checkout flow, and an intuitive interface to give website visitors the best user experience.
Cost-effective Event Booking Software
As Anchor lets customers book directly on your website, you get a long-term solution for direct website booking. Also, you don't require paying for set up nor any monthly fees. We have two pricing structures at 4 % and 7 % of web sales; you can choose per your business needs.
Insightful Software
Anchor Train Tours management software, through its intelligent analytics, gives an insight into how your customers invest on various channels to provide you with the maximum number of bookings for trendy events. With these smart solutions, you can plan your future events to give you more leads and revenues. Uncover what your customers like the most and plan accordingly.
Feedback features
The Live Chat feature lets you get feedback from customers directly. Answering queries of customers immediately also increases engagement and lets you harness the best business opportunities and earn customers long-term by offering personalized discounts and resolving concerns. Customers can reach out to you and ask their queries, book 24*7 from any place at any time.
Anchor train ticket software provides:
Trains tours booking portal
Ticket Reservation Assurance and inventory management
Customized Email Communications
Dynamic pricing and business insights
API integration for Train Tours packages
SEO friendly features
Mobile responsive functionality
Advanced reports with insightful solutions
Swift Train Tours and event booking
Automation for markup, refund, cancellation, or commission
Anchor's automated ticketing software for Train Tours helps in operations management. You can also manage offline and online bookings for various sales points like your office front desk, call centers, and the website. You can track offline and online bookings from multiple points of sales such as your front office desk, call center, and website from several sales channels such as B2C, B2B, B2B2B, B2B2C, and more.
Cost-efficient 
Anchor OS for Train Tours is a real-time software allowing your operations management and sales improvisation strategies with complete information on your dashboard. You get more bookings with the website reaching out to real customers through well-done SEO, social marketing, and applying the latest digital marketing strategies. The software is also used for accounts audit management as it integrates with XML, GDS, and Travel and Tours API integration.
Next Level Functionality
Anchor Operating systems Train Tours management software gives you a complete overview of sales, organic traffic, paid visits, manifests, the maximum amount of investment, sources of investment, platforms giving the maximum traffic am, and much more. It also gives you a comprehensive insight into sales per day, per week per month, or fixed period. You can also do a comparative analysis. With its Excel-like tool sets, it provides for audit-friendly reports.
Developer Friendly
This is a developer friend robust and highly efficient API for getting customer bookings through different channels such as GetYourGuide, Google Things To Do, Expedia, Musement, Viator, and more.
Anchor Railway Ticket Booking Software
Anchor Io has built the most intuitive and highly advanced railway ticket booking system. It can manage the inventory, fares, fare rules, and schedule. There's no doubt that there is an increase in demand for online train booking as travelers seek more independence across the globe.
This software solution helps manage and support multiple distribution channels for scaling revenues with direct selling through the bit o through your network of travel agents and via XML connectivity.
This system provides access to fight consolidators and GDS systems. It also allows you to extend the portal through value-added services. It helps in giving extra revenue as they give answers for customers' pain point's requirements.
Anchor iO Railway Ticket Booking Software has portal design elements, making it an excellent B2B railways ticket booking software. It provides businesses full control of their operations. On the other hand, end consumers can also get complete information about the seats available, location list, time of departure, and arrival at railway stations.
Customers can check for the availability of tickets. Moreover, you can give your customers attractive offers at a discount for other expenses and facilities they may need such as accommodation, sightseeing, activities or flight.
We are linked with several train aggregators to give you an option to find suppliers who can give services as per your business requirements.
Customers who reserve through Anchor iO Railway Ticket Booking Software get basic and advanced search capability or display the whole week's availability. You can also get information for customer profile management, seat maps, and reservations can also be made for the special service request.
Customers will get automated SMS or email notifications. The booking is supported with multi-currency and multi-language transactions. Reservations also include group booking functionality. You can get complete insight into how Anchor iO Railways ticketing will work with a live demo.
Train Ticket Management System FAQs
How long does starting with the Anchor Train Tours management system setup take?
We need only six weeks to design a fully-customized Anchor platform for your Train Tours businesses.
My Train Tours  Business is complex. Can Anchor prove helpful?
Yes, Anchor Train Tours Operating System can help resolve your business's complex requirements. The app has several features to make business operations better managed and also offers insight into improvisation in systems. In addition, it is designed to enhance Train Tours ticketing and booking online. Tell us more about your Train Tours business, and we'll get back to you with the best features for your app.
How does Anchor integrate with our Train Tours website?
Everything is based on your choice. We can do 100 % web hosting for you if you like; else, you need to give us your site's SDK.
What is your pricing structure?
We offer two pricing structures, at 4% and 7% of web-based sales. You can choose any that suits your business requirements. Learn more here.
What third-party apps do you integrate with?
We have third-party integration with most of the relevant, including but not limited to Google Things To Do, Musement, GetYourGuide, Viator, CityPass, GoCity, Tiqets, Expedia, Ventrata, and Rezdy. Of course, you get all these integrations regardless of your chosen package.
What support is included?
Our Train Tours business clients get a tech team dedicated to their project that responds within 24 hours. Our clients also get access to support portals. Also, our premium package clients get access to a specialized Slack Channel.
More about Train Companies
Ticketing software can help train operators streamline their operations and enhance their customer experience. With ticketing software, train operators can automate the ticketing process, reducing the time and resources needed to manage ticket sales manually. Passengers can purchase tickets online or through mobile apps, eliminating the need for long queues and paper tickets. This can help improve the overall customer experience by reducing wait times and simplifying the ticketing process.
Ticketing software can also help train operators improve their revenue management. With real-time data and analytics, operators can adjust ticket prices based on demand, optimize seating and capacity, and manage their inventory effectively. This can help operators maximize their revenue potential and ensure that their trains are running at optimal capacity. Additionally, the data collected by ticketing software can provide valuable insights into passenger behavior and preferences, helping operators to better understand and meet the needs of their customers.
Another benefit of ticketing software for the train industry is enhanced security and fraud prevention. Modern ticketing software can incorporate security measures such as barcodes, QR codes, or NFC technology, making it more difficult for counterfeit tickets to be produced. This can help prevent fraud and ensure that only valid ticket holders are allowed to board trains.
Our values
Be Honest, Don't Be Afraid